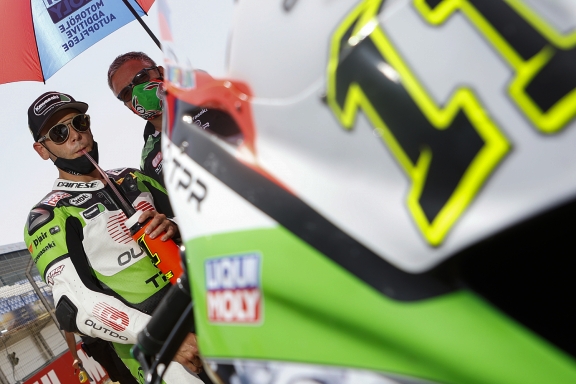 FIM Superbike World Championship
Circuito de Jerez Ángel Nieto (Jerez de la Frontera, Spain), Sunday August 2nd, 2020
★★★
Sunday, 2 August 2020
#ESPWorldSBK: Restart of the championship done with another promising points scoring finish
However, Sandro Cortese had to cope with very unusual difficulties in the second main race of the weekend.
The restart of the Superbike World Championship took place this weekend in abnormal conditions. The midsummer heat of southern Spain was an enormous hurdle for human and material, which had to be overcome. Despite these strains Sandro Cortese and his Italian Pedercini Racing Team made further progress on Sunday. With P14 in Superpole race, however, the 30-year-old rider from Berkheim missed the top 10 and thus more World Championship points. From this starting position Cortese finally left the line for race two on Sunday afternoon. Unfortunately, shortly after halftime of the distance, some parts of his equipment broke away which prevented him to improve on his original starting position.
#11 Sandro CORTESE (OUTDO Kawasaki Racing, Kawasaki ZX-10RR), Superpole-Race: P14 / Race 2: P14:
"In any case, it was a better day than things went on Saturday. In the Superpole race we were much closer to the points than the result would suggest. That is certainly a positive sign. In the second main race we were able to make another step. Therefore, today's 14th place is much more worth than P14 in race one because we were able to come home in this position by our own strength. On the other hand, we are still a long way from where we, and I personally, would like to be. But considering the circumstances, these results are okay. We simply have to continue working hard in this direction so that we can improve step by step."
"Because of the abnormal conditions with 64 degrees asphalt temperatures this afternoon, I suffered massive problems with my boots during race two. On top of that there were also over 90 degrees coming from the engine. It all played together that the heels and soles came off the boots. This was why I had to race the last third of the race with practically no soles and therefore, I hardly found any hold on the bike or could not put any pressure on the footrests. There was still a piece on the left foot, but this often blocked the shift linkage. So, I had problems at gearing either. Since I have Dainese as a supplier, something like this has never happened before. Nevertheless, I am glad to have them as partner because I think their products are the best. But under conditions we had like these here, every material simply reaches to its limits. In one week at Portimao it should not be so hot as this weekend, so everything should be a little more relaxed again."
#ESPWorldSBK - Results Warm-Up:
1 Jonathan REA / GBR / Kawasaki Racing Team WorldSBK / Kawasaki ZX-10RR / 1´39.535
2 Toprak RAZGATLIOGLU / TUR / PATA Yamaha WorldSBK Official Team / Yamaha YZF R1 / 1´39.721 +0.186
3 Loris BAZ / FRA / Ten Kate Racing Yamaha / Yamaha YZF R1 / 1´39.740 +0.205
18 #11 Sandro CORTESE / GER / OUTDO Kawasaki Racing / Kawasaki ZX-10RR / 1´41.161 +1.626
#ESPWorldSBK - Results Superpole-Race after 10 Laps:
1 Jonathan REA / GBR / Kawasaki Racing Team WorldSKB / Kawasaki ZX-10RR / 16´43.589
2 Scott REDDING / GBR / ARUBA.IT Racing - Ducati / Ducati Panigale V4 R / +0.522
3 Michael van der MARK / NED / PATA Yamaha WorldSBK Official Team / Yamaha YZF R1 / +2.701
14 #11 Sandro CORTESE / GER / OUTDO Kawasaki Racing / Kawasaki ZX-10RR / +18.741
#ESPWorldSBK - Results Race 2 after 20 Laps:
1 Scott REDDING / GBR / ARUBA.IT Racing - Ducati / Ducati Panigale V4 R / 33´51.855
2 Chaz DAVIS / GBR / ARUBA.IT Racing - Ducati / Ducati Panigale V4 R / +3.082
3 Toprak RAZGATLIOGLU / TUR / PATA YAMAHA WorldSBK Official Team / Yamaha YZF R1 / +5.472
14 #11 Sandro CORTESE / GER / OUTDO Kawasaki Racing / Kawasaki ZX-10RR / +35.062
#WorldSBK - Championship Standing:
1 Scott REDDING / GBR / Ducati / 98
2 Jonathan REA / GBR / Kawasaki / 74
3 Alex LOWES / GBR / Kawasaki / 72
14 #11 Sandro CORTESE / GER / Kawasaki / 14