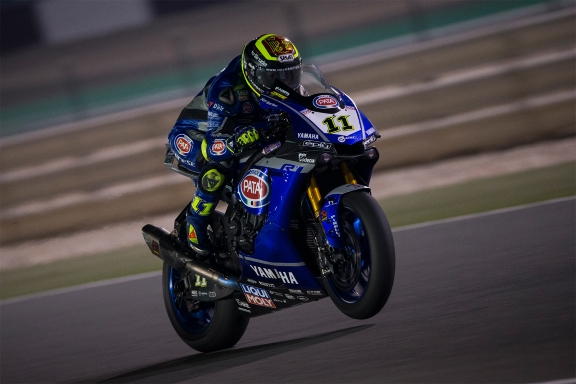 FIM Superbike World Championship
Losail International Circuit (Doha, Qatar)
★★★
Monday, 28 October 2019
#QATWorldSBK: Rookie season to end with two clean top ten finishes
After the devastating outcome of the first race at the season's finale in Qatar, Sandro Cortese was able to score important points again on Saturday with an eighth and tenth place respectively.
Sandro Cortese quickly put away the disappointing race crash from Friday evening. On Saturday, the 29-year-old from Germany's Berkheim went into the last two races of the 2019 Superbike World Championship with a high level of motivation. With a thoughtful tactic, the Yamaha rider made it into the top ten twice and thus ensured a conciliatory end to a season full of setbacks in the highest class of this worldwide racing series with production-based motorcycles. Cortese finished the championship in twelfth place overall.
#11 Sandro CORTESE (GRT Yamaha WorldSBK, Yamaha YZF R1), Superpole-Race: P8 / Race2: P10:
"The last race day of the year actually had been started very promisingly. In the Superpole race I felt much more comfortable with the bike than in the first race. But Race 2 was tough. In the end, I struggled lot with the front tyre, and I lost it almost in every corner. After yesterday's crash I tried to push as hard as I could, but I didn't want to finish my last race with GRT Yamaha with a crash. So, the top ten were the best we could achieve today. In the end, I got pretty close to the two Pata Yamaha riders. That's certainly positive and confirms my learning curve. But when you start from third on the starting grid, everyone expects something big. But I had to learn a lot this year and understand how to keep my pace over the whole race distance and not just the first five or six laps. All in all, I feel that I have delivered a good rookie season. Many thanks to Yamaha and the GRT Yamaha team for making this possible this year. I will miss everyone on the team next season."
#QATWorldSBK - Superpole-Race Results (10 Laps):
1 Jonathan REA / GBR / Kawasaki Racing Team WorldSBK / Kawasaki ZX-10RR / 19´41.833
2 Alvaro BAUTISTA / SPA / ARUBA.IT Racing - Ducati / Ducati Panigale V4 R / +2.027
3 Alex LOWES / GBR / Pata Yamaha WorldSBK Team / Yamaha YZF R1 / +5.143
8 #11 Sandro CORTESE / GER / GRT Yamaha WorldSBK / Yamaha YZF R1 / +10.223
#QATWorldSBK - Race2 Results (17 Laps):
1 Jonathan REA / GBR / Kawasaki Racing Team WorldSBK / Kawasaki ZX-10RR / 33´34.809
2 Chaz DAVIES / GBR / ARUBA.IT Racing - Ducati / Ducati Panigale V4 R / +2.978
3 Alvaro BAUTISTA / SPA / ARUBA.IT Racing - Ducati / Ducati Panigale V4 R / +3.100
10 #11 Sandro CORTESE / GER / GRT Yamaha WorldSBK / Yamaha YZF R1 / +18.332
#WorldSBK - Standing:
1 Jonathan REA / GBR / Kawasaki / 663
2 Alvaro BAUTISTA / SPA / Ducati / 498
3 Alex LOWES / ITA / Yamaha / 341
12 #11 Sandro CORTESE / GER / Yamaha / 134