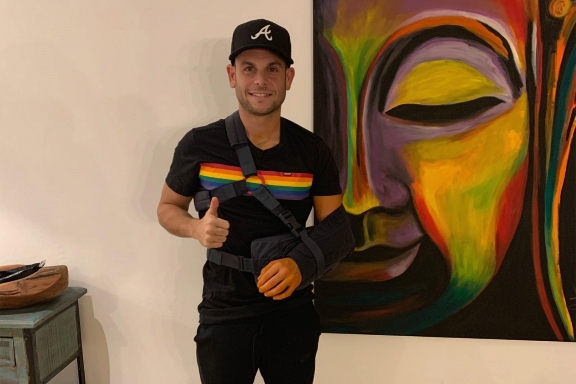 FIM Superbike World Championship
Berkheim
★★★
Saturday, 9 November 2019
#WorldSBK: Shoulder surgery well overcome
Sandro Cortese had to undergo a medical intervention last Wednesday at the Mindelheim hospital.
Since the crash at Donington Park last summer, Sandro Cortese has had problems with his left shoulder joint. At this accident, the shoulder was strongly under blood and in addition, the ligaments were very damaged as well as the supraspinatus tendon had suffered fibre tears. During the operation, the tendon was sutured because the injury had not healed naturally. Cortese was allowed to leave the hospital on Friday, and he is confident that the arm loop will no longer be necessary at the beginning of December.
#11 Sandro CORTESE:
"The surgery on the shoulder went well. Although I had no problems aboard the bike, this operation was necessary. A tendon was torn, which wouldn't have healed in a natural way. I didn't have any pain while riding the bike, but it got worse and worse in my daily life. While sleeping or at training it was no longer a condition that was bearable. That's why I decided to take this step. The time immediately after the end of the season was just as well chosen, as I'm not allowed to strain my shoulder for six weeks now. The first tests for the new season are planned for the beginning of next year. Until then, I have enough time to get fit again."