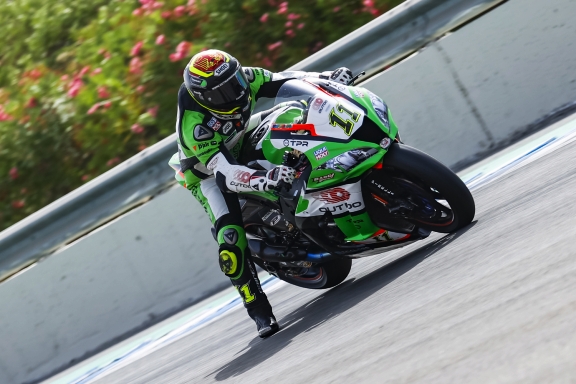 FIM Superbike World Championship
Circuito de Jerez Ángel Nieto (Jerez de la Frontera, Spain), Saturday August 1st, 2020
★★★
Saturday, 1 August 2020
#ESPWorldSBK: Two hard fought points in Saturday's heat race at Jerez
At this weekend's restart of the championship, Sandro Cortese is struggling to get going into a fast run at the southern Spain's located circuit.
On the first race weekend after the five-month break Sandro Cortese and his technicians of the Italian Pedercini Racing Teams are struggling with many persistent problems so far. After a difficult first day of practice, Saturday's Superpole session, which decides the starting grid, brought a ray of hope for the ambitious Kawasaki team. The 30-year-old Berkheimer started the first main race of the weekend from twelfth spot on the starting grid. In the afternoon, however, Cortese was again slowed down by electronic problems.
#11 Sandro CORTESE (OUTDO Kawasaki Racing, Kawasaki ZX-10RR), Grid position P12 / Race 1: P14:
"The weekend started with many difficulties because we suffered a lot of problems with the electronics, and we also had a hard time finding a suitable setup for this track and conditions. Therefore, we ended up Friday far down the order. Last evening, we had a long meeting to find solutions. Unfortunately, we lost one day, while the competition made much better progress. The situation has improved a bit. Superpole was ok overall, with twelfth place on the grid we did well in view of the problems. But during the race we had a problem with the traction control right from the start. We still have to analyse this issue in detail, which didn't work. Apart from that I got off to an awfully poor start. But that was not the main reason why I dropped far down during in the first laps. We just didn't have the bike to be in the top ten today."
"But my team is doing a good job, they always work incredibly hard and we have also made some progress. But after the pleasing Superpole we clearly missed our goal. To bring home twelfth position where we left the line would have been the least, we could have done. At the end of the day, it was still enough to score points and we now know what needs to be improved for Sunday to finish further forward the rankings. But it will be another long and brutally hard day. Nevertheless, I am confident that I will be able to get through these strains again. So far, I have felt particularly good in every session, both physically and with the bike. This is an important point, which increases my confidence to improve tomorrow."
#ESPWorldSBK - Free Practice Combined Results FP1/FP2:
1 Loris BAZ / FRA / Ten Kate Racing Yamaha / Yamaha YZF R1 / 1´40.249 (FP1)
2 Jonathan REA / GBR / Kawasaki Racing Team WorldSBK / Kawasaki ZX-10RR / 1´40.311 +0.062 (FP1)
3 Michael Ruben RINALDI / ITA / Team GOELEVEN / Ducati Panigale V4 R / 1´40.325 +0.076 (FP2)
19 #11 Sandro CORTESE / GER OUTDO Kawasaki Racing / Kawasaki / ZX-10RR / 1´42.021 +1.772 (FP1)
#ESPWorldSBK - Results Superpole:
1 Scott REDDING / GBR / ARUBA.IT Racing - Ducati / Ducati Panigale V4 R / 1´38.736
2 Jonathan REA / GBR / Kawasaki Racing Team WorldSKB / Kawasaki ZX-10RR / 1´38.770 +0.034
3 Tom SYKES / GBR / BMW Motorrad WorldSBK Team / BMW S1000 RR / 1´38.776 +0.040
12 #11 Sandro CORTESE / GER / OUTDO Kawasaki Racing / Kawasaki ZX-10RR / 1´39.869 +1.133
#ESPWorldSBK - Results Race 1 (20 Laps):
1 Scott REDDING / GBR / ARUBA.IIT Racing – Ducati / Ducati Panigale V4 R / 33´58.961
2 Jonathan REA / GBR / Kawasaki Racing Team WorldSBK / Kawasaki ZX-10RR / +1.147
3 Toprak RAZGATLIOGLU / TUR / PATA YAMAHA WorldSBK Official Team / Yamaha YZF R1 / +2.252
14 #11 Sandro CORTESE / GER / OUTDO Kawasaki Racing / Kawasaki ZX-10RR / +38.138
#WorldSBK - Championship Standings:
1 Scott REDDING / GBR / Ducati / 64
2 Alex LOWES / GBR / Kawasaki / 58
3 Jonathan REA / GBR / Kawasaki / 52
12 #11 Sandro CORTESE / GER / Kawasaki / 12
#ESPWorldSBK - Time Schedule for Sunday August 2nd (CET):
Sunday, 2.08.: 09:00 - 09:15 Warm-Up
Sunday, 2.08.: 11:00 - Superpole-Race (10 Laps - 44,230 km)
Sunday, 2.08.: 14:00 - Rennen 2 (20 Laps - 88,460 km)